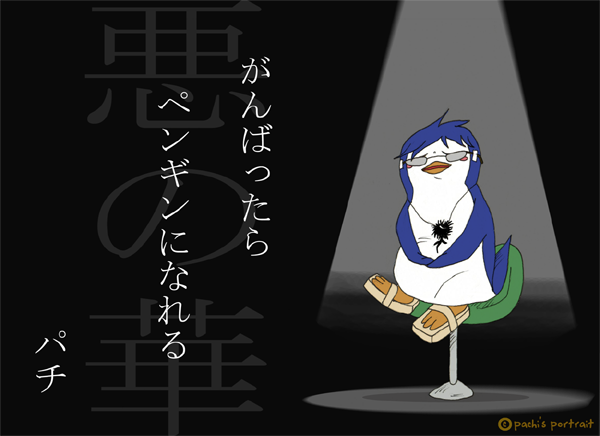 Here we go. The big one. My review of the critically acclaimed Flowers of Evil now goes live. This was a massive challenge to write - not so much because of the depth of the work involved, but my attempt to figure out just what I needed to say about it. I'll go into more detail in the actual review, but Flowers is one of those shows the defies proper reviewing - you just need to experience it for yourself. That being said, why not read what I have to say anyway, for a laugh? :D As always, follow the link below to be on your way. Enjoy!
Flowers of Evil
Next up, Gargantia on the Verdurous Planet. I can't guarantee that one will be up before the end of the month, but I'll do my best! Expect a bit more of a dearth before other reviews following that one - I expect these short bursts of content will be common, we'll see. XD

The text in the image says, "If I try my hardest, I can become a penguin." Well, it kinda says that - the grammar is off. Anyway, the image is parodying the image seen at the end of every episode of Flowers, featuring the author Oshimi in a similar chair and black background with his wavy hair, delivering a cryptic, condescending message to the viewer. He's so sure of himself, he can be a penguin if he wants to!