I watched a lot of anime last year, in 2012! When I take a look back, they kind of run together in my head. I think they went something like this...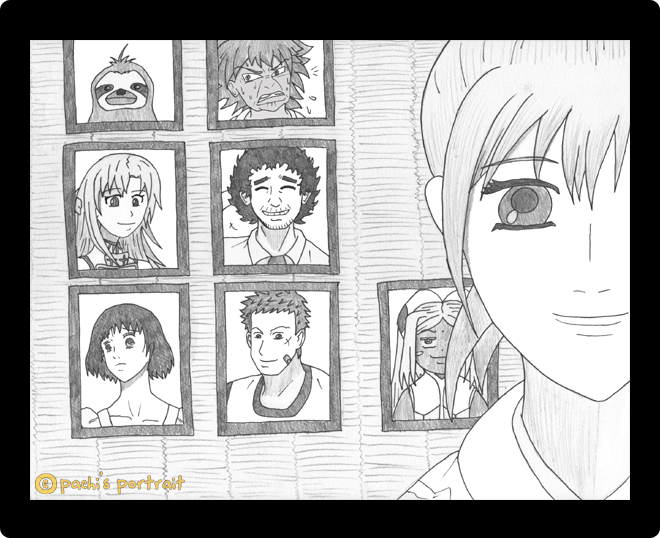 It's that time again! The time of the year when I gather my anime experiences from the previous year and lay them out on a broad sheet. But this year, instead of just the usual drawing, I'm going to add something new. I am pleased to announce that from this day forward, Pachi's Portrait will feature written anime reviews! Much like my art, there won't be any kind of schedule to these. For the time being, I am limiting myself to reviews of completed series which I have seen in full. Though I do keep up with the current anime season on a weekly basis, doing a weekly blog on a regular basis is not something I'm ready to commit to yet. To get things rolling, I have endeavored to write full reviews for each anime represented in the recollection art above. You'll find links to them below, or you can navigate directly to the Review page from the top bar. There are two exceptions: I have not written reviews for Space Brothers nor Chihayafuru, which are both featured in the drawing. Two reasons for this: 1, these series are not yet finished. And 2, I can pretty much sum both of them up in one sentence: "This show is wonderful and you should watch it." :)
I have six reviews prepared in total for this Recollection. Only the first three (as a side note, please keep in mind that the Sword Art Online review has potential spoilers within) are ready to roll tonight - the remaining three (The Future Diary, Kids on the Slope, and Natsuyuki Rendezvous) will be coming tomorrow. Look forward to it!

The drawing for last year's retrospective was always intended to be an abstract piece featuring the characters from various shows on karuta cards. I'm not sure why I couldn't have been bothered to try and draw the cards any straighter, but oh well. It was fun and a challenge once again to attempt drawing in different styles, as I tried to capture the style of each show in question. On that note, I apologize for Asuna's appearance here. I made her look SO derpy. XD Look how nervous Yuki is getting up top! Do you think perhaps he dislikes sloths?