I'm in a bit of a tough position. Today's topic has been covered again and again and again - how can I possibly put a new spin on it? Maybe the answer is not to. Maybe the best course of action is to start from the beginning, emerging from the moving truck in a brand new home, given a momentous task by a local scientist! You're eager to explore the world with this pet you received to aid you on your quest. A lush, rolling landscape awaits you, but be wary of the tall grass, for in them are dangerous creatures, and sometimes......ah! There! Behind that rock! Another like yourself has stepped forward! You've no choice but to put your mettle to the test!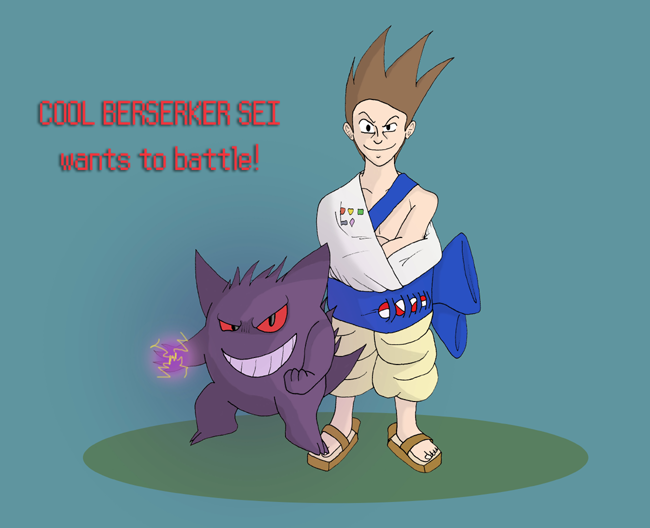 Ghost-type trainers shouldn't be idling this early in the game, what on earth..........well, if it wasn't obvious already, today's post is about that worldwide critter-collecting phenomenon, Pokemon. I hardly should need to expunge on what Pokemon IS if you are a human being and you posses a pair of ears and cognitive thought, but for those not in the know, it is a video game franchise from Japan named "Pocket Monsters"; Pokemon is simply a cute shortening. The name derives from the ability of a user (trainer) to battle and capture monsters, which, when caught, they keep inside tiny capsules (Pokeballs) that can fit in their pocket.
You can see the appeal. Cute critters that you can carry around anywhere and make them do cool stuff? Sign every kid in the world up for that! It had something for kids of all shapes and sizes. The focus on making monsters battle each other in tournament-style bouts clearly shows the primary demographic was young boys, but the story and nurturing aesthetics of Pokemon helped make it accessible to anyone. It teaches kids responsibility and improvement through experience and perseverance, while still keeping their attention with fun monster designs and battle actions. Even adults can understand why kids go ga-ga for this kind of entertainment. I mean, I never ASKED to own a Pokemon game (at first). My wise family, alongside getting me a Gameboy Color for my 10th~ (approximate) birthday (which I also did not ask for), gave me a copy of Pokemon Blue, making it the first Gameboy game I could call my own. The last Pokemon game I played came out two years ago. So obviously I adored the game - why else would I continue to play it for the following 13 years?
This franchise was my childhood through and through. I played the game into the late hours of the night, beating just one more trainer before bed; or resetting every time my last Ultra Ball failed to catch a Legendary Bird, pridefully refusing to use my Master Ball before the coveted Mewtwo on the horizon. I was glued to the TV every Saturday morning to catch new episodes of the cartoon. Previously I've stated that Dragonball Z was the first anime I ever saw; in hindsight, it was actually Pokemon. I saw the (first two) movies in theaters, retrieving the Ancient Mew card from the First Movie. And yes, I collected the CCG too. My first rare card from my first booster pack was a 1st Edition Holographic Charizard. That doesn't expand on my love of the fandom - I just thought that was a really awesome thing. I even had a Pokemon Pikachu - Pokemon's answer to the Tamagotchi/GigaPets. Loved that little guy. Made you want to run and exercise to make him happy! Ingenious, really.
I praised Pokemon earlier for being accessible to kids of all ages and for teaching lessons while still keeping up the entertainment value. But I also said the last Pokemon game I played came out two years ago. Two more generations of the games have come out since then, but after years of catching monsters and making them battle, trying to make them the very best like no monster ever was, I was growing......tired. The fact of the matter is, the Pokemon games, while improving every step of the way, are basically the same game over and over and over again. For kids, that's great; each new generation of 10-year-olds will have a wonderful game to play. For me, now an adult, it's grown stale. I've gone through versions Blue, Silver, Sapphire, Emerald, Leaf Green, Pearl, and finally back around for Soul Silver. The journeys had been long and arduous, and I'd enjoyed them thoroughly. I had game experiences I'd never forget and fond memories of nights trading and battling with my friends; I even had my own #1 favorite monster (Gengar). And yet, over time I realized that I was playing a game that just repeated itself with each generation. I never once leveled one of my Pokemon to 100 - I would buy the next version before accruing enough time to do so, and then the older game would sit in the bin. I came to realize that, for me, such a mindless cycle had to come to an end; the point had been lost. So I made a conscious decision to purchase neither Pokemon Black nor White, and I quit the game for good. Several of my peers have continued the games unwavering, it's just simply not for me anymore. Perhaps you can blame my narrowing taste in video games, but my trainer days have come to a close. Do I regret playing Pokemon? No. My quitting is solely a matter of age and taste - they say nothing of the state of the games now. And I would encourage anyone curious to check them out. They kept me entertained for many long years and hopefully may do the same for you.

Most. Fun. Coloring. Work. Ever. I had so much fun coloring this drawing. It doesn't look like much, but it came together so smoothly. Gengar's triple shade pleases me beyond words. As for Sei, I'm not as happy with him......his legs aren't long enough, for one. His clothing is a little wonky; however his expression is PERFECT. I wanted Sei and Gengar's 'tudes to be in sync, and I think I captured that in the expressions. I debated giving Sei a similar toothy grin, but I decided that would be a little TOO in sync, to the point of being hokey. "Cool Berserker" is a reference to Sei's personality in my story - don't pay it any mind.