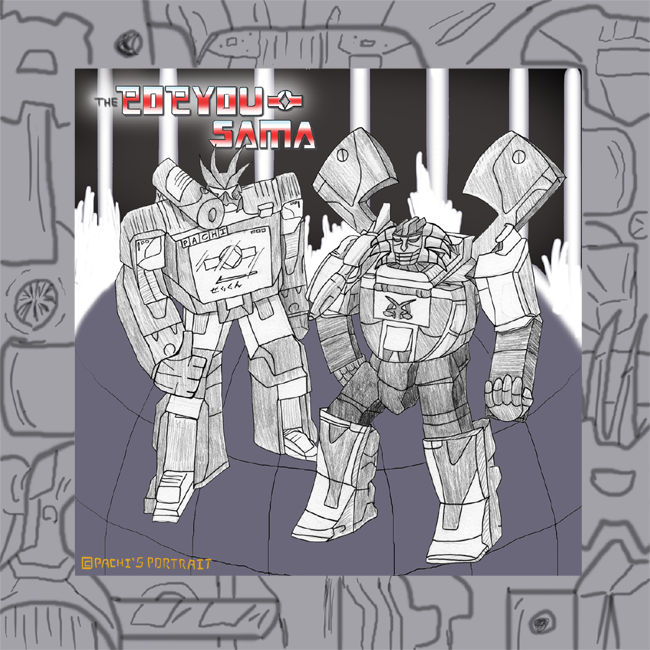 Some time ago you may recall me saying that this post would be a precursor to the next Nostalgia Week on Pachi's Portrait. Well, as Nostalgia Week hasn't yet become a staple of the blog and I don't want to make promises I can't keep, for now I've decided that during this time of the year (September/October/November) I will strive to make several of my posts nostalgia related, rather than doing three in one particular week. I chose this period because Fall always makes me look back and reflect on the things that have come before that year; I can't really say why. But that makes me think of nostalgia. So, here's the first of hopefully several nostalgia-related drawings/updates. You may have already guessed what today's is based on the title and image: Transformers!
If you're of the newer generation you're probably thinking about the live-action Michael Bay movies when I say that, but that's not what I'm referring to. Yes, they are a part of the Transformers franchise, but I personally don't like them that much. And why? Because I'm a G1 junkie. G1 refers to the retro-actively named first generation of Transformers toys and media that popped up from 1984 to 1991. I was born in 1987, so I appeared smack in the middle of its popularity. I didn't actually start to discover these toys until the G2 generation of 1992, but I soon found the original toys thereafter and Hasbro's cartoon series that ran from 1984-1987 - I was only able to see a handful of it in reruns and syndication. I loved it. It wasn't until years later that I was able to see The Transformers: The Movie (since it was in theaters before I was born), but I adored that as well; today I rank it among my favorite animated motion pictures of all time.
While I loved the toys and the cartoon, there wasn't a deep appreciation for them - I just thought robots were cool, especially robots that could transform. It wasn't until 1996 when another Transformers series, Beast Wars, aired on American television that I became a hopeless fan on another level. That show helped me respect the story and mythos of Transformers and truly see that there was more to it than meets the eye (sorry......I'll only say it once).
But yeah, there's not much else to say except that I love Transformers (as long as they have nothing to do with Michael Bay). I still collect the toys to this day and feel no shame in doing so as a transforming-robot loving adult. :) If you're a Transformers fan, which series/generations of them are your favorites? Favorite characters? Do you tend to lean more towards Autobots or Decepticons? Let me know! (I'm a Decepticon at heart.....Soundwave has and will always be superior)

I hope it's obvious enough, but I wanted to draw Sei and Suunu as Transformers....at first I wasn't sure how on Earth I could pull that off. As you can tell, there isn't MUCH that really indicates their own character other than the head molds and some of the symbols on their parts. Sei here is modeled after Soundwave, for little more reason than Soundwave is my favorite Transformer. Suunu is modeled after Wheeljack; his head mold had a design that I thought I'd be able to refashion until Suunu's unique hairstyle. Other than that there's no connection between the characters - Sei doesn't talk in a robotic monotone, Suunu isn't an inventor; they're just the models I picked. I guess this was primarily a test to see how well I could draw a Transformer than to make my characters look like one. I think they came out okay. I used my own Soundwave G1 toy as reference for Sei; for Suunu I used an online reference image of Wheeljack since I don't have the G1 version of him (I have his Transformers Prime figure, but I didn't want to use that model). Suunu came out a little darker than Sei which is wrong because Wheeljack is mostly white and Soundwave is a dark blue (not that you can tell in shades of gray, but I wanted to convey it accurately), but the two were drawn separately and then combined in Photoshop so their shading isn't quite on the same level.