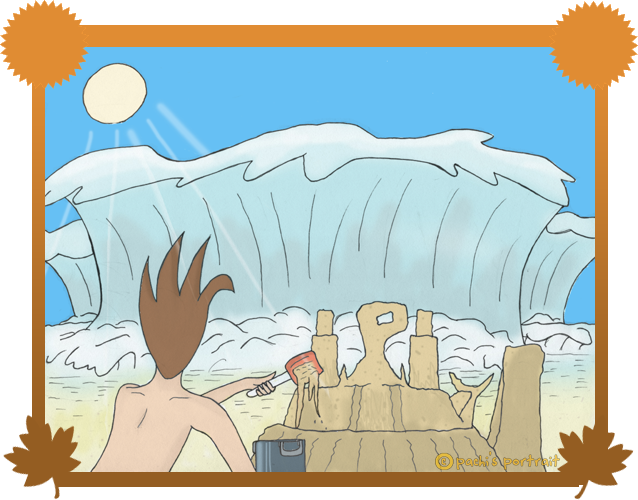 We're seeing some changes around here. Mornings are getting cooler, the humidity is fading away, and late allergies are beginning to flare (at least here on the east coast). And that must mean......fall is approaching!
It's time for that beach holiday to end - it's back to work for the adults and back to school for the kids! Then again, many adults are always working - I'm one of those adults now. Summer, for me, used to mean the time of the year when I got to do nothing and not think about work. Now it's just another time of the year. I don't use it for vacation - I use it like I would use any other time of the year: work during the day, rest in the evening, take a break on the weekends. So I don't really have what you'd call a traditional summer vacation anymore. But that doesn't mean I didn't enjoy my summer. I got to go to two anime conventions just a few months apart; I made the big move out of my parents' home into my very own apartment; the workflow at my office has undergone many overhauls in the last few months which, although initially coming from negative events, highlight improvements moving forward. Everything is changing; a wave has washed over me and is dragging me along. I've yet to see where I will drift, but I'm having fun and making due along the way. I'd say this has been a more eventful summer than I was expecting because of that. I can't wait to see what changes fall is going to bring (not to mention I'm ready for some cooler weather!).
So how did your summer go? What kinda of activities or vacations did you take part in? Let me know! I hope it was an eventful one! :)

Actually, I didn't even go to a beach this summer! I'm not much of a beach person; and it seems that Sei isn't either if such events like the above befall him. This drawn by hand and colored in Photoshop. I'm still learning a lot in the ways of digital coloring, but I still feel like I'm improving. I'm not happy with the sky; I feel like it could have even a few slight shades to add depth to it, but I'm pleased with the rest of the work. I was unsure what kind of sandcastle Sei would build, so he decided to make a whale carrying a Pachi castle. How predictable of him.