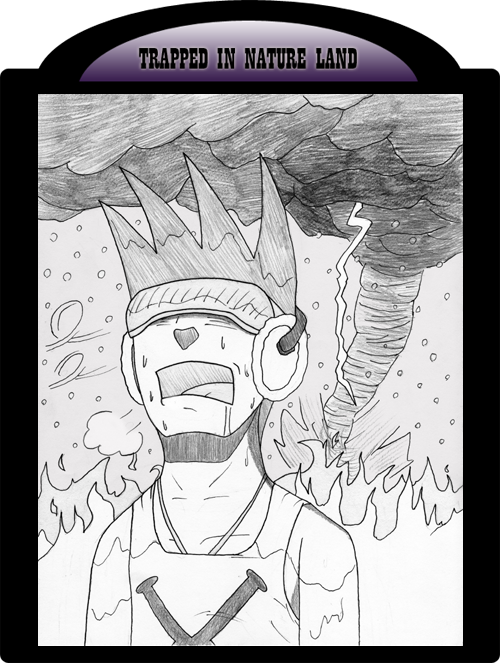 Hey, guys! Sorry I've been away so long! There's been a lot of things going on, but I'm going to try and get semi-regular updates going again starting this week! But I'm back, and I now find myself........trapped in crazy summer weather.
A lot of people know summer as that time of the year when the temperature goes so high that you just want to lie back and do nothing. A time of rest and relaxation. Other people know summer as that time of the year when the elements go completely haywire on a regular basis. As a great cartoon teenager once said, "Summer rains, you can never predict them." And indeed it rains, it frequently rains. It can be hot and sunny in the morning and then overcast and rainy just a few hours later. Why do I bring this up?
Because the weather around here, in the eastern United States, was rather.....irritable a few weeks ago. For me, anyway. Every other day it seemed started out bright and sunny, but then devolved into violent overcast storms by late afternoon. I guess that's not really bad since we always need rain, especially in this time of year when it can get very dry, but the storms are what I don't like. I have a particular kind of weather I don't like, and that's thunder/lightning storms. Cliche as it is, I'm afraid of them. Part of it may be the thought that the lightning could be hitting somewhere, causing damage to something or someone. Part of it may be the fact that my sensitivities get shaken by those bright flashes and banging booms. I just don't find it calming in the slightest. I don't mind the rain.......just leave the theatrical additions behind, please.
Are there any types of weather you dislike or like for any particular reason?
NOTE: One quick thing - I've finally updated the Art & Sketches page of the site! So that's something.

I decided to make this image at the hate of my previously stated annoyance with all the thunderstorms we'd been having for awhile (at the time of preparing this post, the storms have actually been less frequent). I thought a fun idea would be to throw Sei headlong into a battle of clashing weather. Storms, wind, snow, heat, lighting, fire!! Okay, fire isn't a type of weather, but......it's hot! Designing Sei's outfit was fun - I wanted him to be too cold in some places but too warm in others. As you can see, he's not too happy about it. I don't know what the visor goggles are for. I just thought it'd be cool if he had some kinda headgear. Just pretend a big burning fireball of a sun is looming ahead of him.