Pre-post Note: I'm alive! Welcome back to the portrait, everyone! Actually, I'm still technically on hiatus. I have begun work on some new drawings that I hope to share with you all soon. Unfortunately, I still have yet to get a scanner in my new apartment - for now, the best I can do is use the one at my parents' home next time I visit them. I'm still adjusting to life in this apartment, but I've gotten into a pretty good groove, so I anticipate that I'll start settling into a regular drawing groove very soon! With that out of the way, I do have SOMETHING to show you; a small piece I put together with my tablet which was inspired from a very particular place: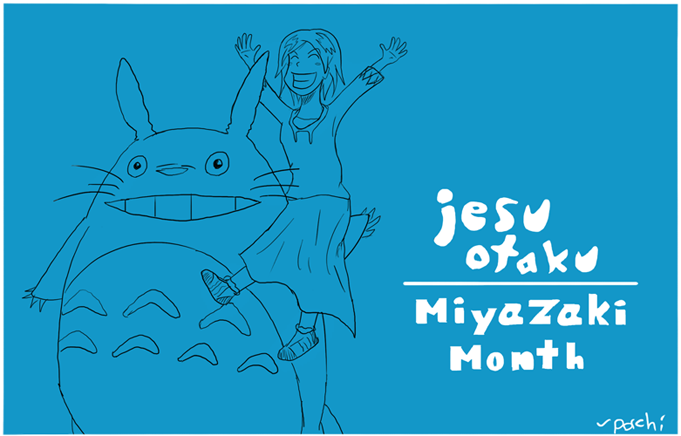 What more can be said about Hayao Miyazaki and his animation company Studio Ghibli? They have created some of the most memorable and magical animated features in the world time and time again. The Ghibli films may not be what introduced me to anime, but they certainly helped me see how amazing anime can be. There's really no use for me to critique his films or go into depth about them - it's already been done countless times, and much better than I ever could! So I will leave you with this simple question - what are some of your personal favorite Ghibli films? For me, it would have to be My Neighbor Totoro, Howl's Moving Castle, and after FINALLY seeing it recently, I can add Castle in the Sky to that list. What about you? :)

For those who don't know, "JesuOtaku" is an internet reviewer featured on the website "That Guy With the Glasses"; she specializes in anime reviews. As part of a (two)month long event, she has recently been releasing a series of videos in which she reviews/retrospects on every single Ghibli animated feature, even the ones not released stateside. Because I am a big fan of her anime reviews (and I've always wanted to try drawing Totoro), I drew the two together in this tribute image. If you want to hear some in-depth analysis of the Ghibli movies and an all-around talented individual, you should check out her videos here on blip.
The color scheme is designed to be just like the intro frame that precedes most Ghibli films; this one. Totoro was a lot of fun to draw, although I ended up making him a bit too small next to JesuOtaku. Granted, we usually only see Totoro in size comparison with very small children, so it's probably not that off.