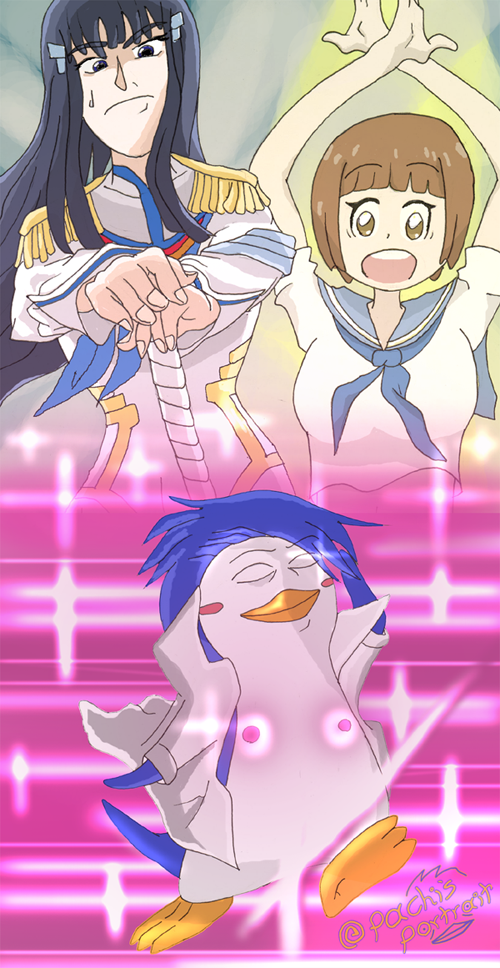 A very late, late evening to all of you! I seem to have lost my way and unfortunately haven't provided any updates in awhile; well I'm fixing that tonight. Sit back and pop yourself some popcorn, 'cuz tonight's review is a long one. Follow the jump below to read my thoughts on the recently completed Studio Trigger action extravaganza Kill la Kill, one of my favorite series of the past year! Hope you enjoy!
P.S. I realize my Review page has been an organizational mess forever, so I tweaked it a bit so it's a little neater. Still not anywhere close to how I want it to appear, but at least I'm not ignoring the blog's cleanliness!

I don't mention this in the review, but one of my favorite aspects of Kill la Kill was how several characters exhibited their own unique visual motifs, such as lighting and backdrop. For this drawing I decided to take my three favorite characters from the show (Satsuki, Mako, and Mikisugi) and make their unique lighting clash. Making the lighting work around each character but also blend into the remainder of the drawing in after-effects was really hard yet enriching experience. It's a lot harder to draw Mako's "HAAAA-LLE-LU-JAH~" arm pose than you might think. Also I apologize if you take offense to radiating penguin nipples.