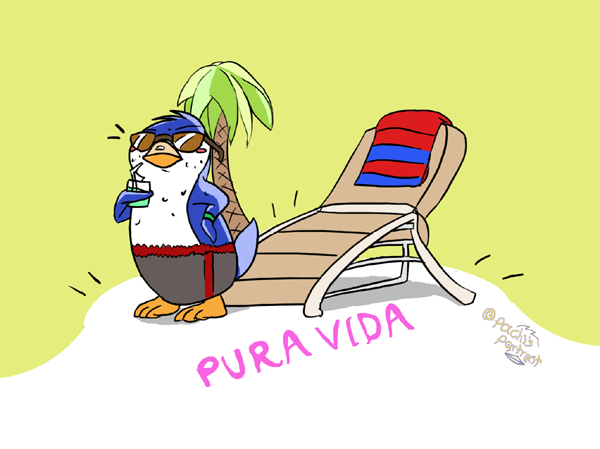 Alright, gang. I'm not happy with the state of affairs around here. Nothing but anime as far as the eye can see. What happened to this place? I used to post about all kinds of stuff unrelated to Japanese culture! My hobbies, observations about the world, my childhood - life! I'm putting my foot down. The yen stops here.
That's not to say anime reviews are going to stop or that they're going to stop being the focus of this blog - these will continue unhindered. But as I have promised to make more posts dedicated solely to my art (which I've failed to follow through with so far) I'm going to not only promise to make more posts concerning other happenings in my life, I'm going to make good on that promise immediately with one right now in a new blog segment: Pachi's Paraphernalia, wherein I talk about anything else that's not centered around Japanese animation or otherwise. We're going to start it up by covering my experiences on a trip I took last month to beautiful Costa Rica.
Does this mean I will be posting additional write-ups such as these more often? Heck no, I'm as lazy and unresponsive as ever!
Click one of the links below to go read about a specific portion of the trip, or just follow the jump at the bottom to start from the beginning. There's also a link to my photobucket page containing more pictures. Hope you enjoy!
Day 0
Day 1
Day 2
Day 3
Day 4
More Images