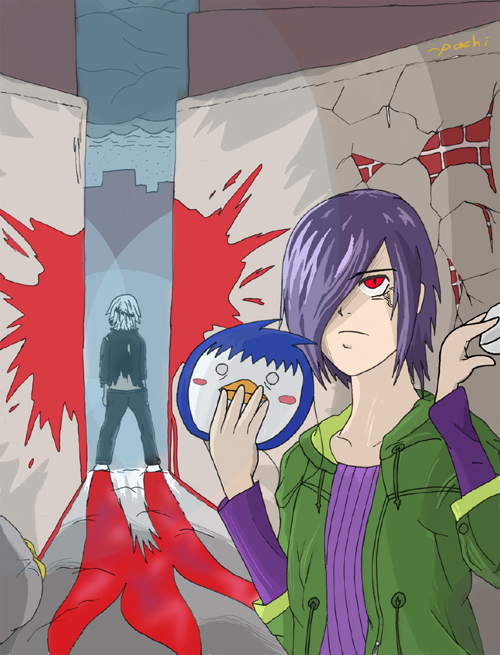 Tonight's review is very special to me. In the past year, few series have touched me so emotionally as Tokyo Ghoul. I put it on a level close to Fullmetal Alchemist - in that they are narrative giants with many perspectives to share told through the lens of a single, insular character study. For rating it so highly, I must treat it just as highly as a review, and so the content of this review is a bit different than normal.
I've said before that I will occasionally drop spoilers in reviews if I think there is no way around them. In this instance, this review is really more of a discussion and exhaustive round-up of the take away meanings in Tokyo Ghoul's complete narrative and the mental journey of protagonist Ken Kaneki. What that means is I will be spoiling events of the story, major events, from the first to the very last episode. Most reviews I write serve to suggest a show to a potential viewer. This time, I just want to *talk* about Tokyo Ghoul because I love it so much, and that's what I'm going to do. So consider it a primer that you need to be someone who has watched both seasons of Tokyo Ghoul in full before reading this review, as I share my lens with those who can consent with or argue against my interpretation. I apologize if this isolates anyone. The first few paragraphs are staunchly spoiler-free and I mention in the text where spoilers become open season.

With that long weaving of personal excuses out of the way, click on ahead to give my discussion of Tokyo Ghoul a read! I hope you enjoy it and are engaged to think by it. :)

This is another case of a vision in my head that is not even close to satisfied in reality with my level of talent, but I think this one was closer than most. In the end I should have been less conservative with shadows - a darker contrast against pervading light suits the mood of the show better. Kaneki's thematic positioning in the piece doesn't come across as cold as I'd imagined. I'm very happy with Touka's hair, though. I put extra time in to give her deserved detail.